BioScan-510 Digital Pathology/Histology Slide Scanner (Best Seller Slide Scanner)
$1,495.00

$1,495.00

Save $1,005
---
---
Short Description
The low price pathology/histology slide scanner with great quality
Scan area of a half glass slide 36.8 mm x 25.4 mm (1.45" x 1") in less than a minute
HD CCD Sensor
7200 dpi optical resolution
Comes with great image acquisition and modification software SilverFast 8
Compatible with Windows 7, 8, 10 and Mac
USB 2.0 interface
Introduction
BIOScan-510 high resolution slide scanner is used by biologists, pathologists, histologists, professional photographers, amateur photographers, graphic designers, photo labs, universities and schools worldwide.
The BioScan-510 is designed to allow scanning of  half size of a standard 1 x 3 inch glass slide with adapted focus on region of interests (ROI). The Bioscan-510 solves low power, large field of view (FOV), high resolution imaging problems. This tool can be used as a great accessory for super-high resolution scanners for the immediate scan of a large FOV or quick search of ROIs.

This generation of low cost histology scanner scans an area of 36.8 mm x 25.4 mm (1.45" x 1") with 3600 dpi or 7200 dpi at 20 seconds. Produces image files which can be saved in a variety of formats including TIFF, JPEG, BMP, GIF, etc. Compatible with all recent versions of PC Windows & Mac based computers.

This instrument will not replace a microscope and digital camera. It is designed to compliment those instruments by doing something they cannot. Namely, capture an ENTIRE histological sample without having to stitch it together. The resulting picture will have the image quality of a 7.5x objective.
Conventional microscopes equipped with low power objectives and digital cameras typically cannot capture samples larger than 6 mm in diameter.
Better yet, this scanner comes with an advanced software of SilverFast 8 which allows continuously adapting the focus on the new or zoomed in ROI. In addition, there is no uneven illumination or out of focus sample edges, as can be the case with traditional low power image capture techniques.
Features
Low cost histology slide scanner
Single button control, scans, saves and (if available) opens image in Adobe Photoshop
Typical scan times is under a minute
7200 dpi optical resolution,
Single pass scan mode
64/48/32/16/8 bits per color sampling rate
High Dynamic Range
Real time sharpening, automatic color correction
Rapid accurate fixed focus
SilverFast 8 Studio Software
USB2 interface
Noise reduction and dust removal filters
Specification
Image Sensor

CCD

Light Source

LED

Hardware Resolution

7200 dpi

Scan Modes

Color: 48-bit input, 24/48-bit output

Grayscale: 16-bit input, 8/16-bit output

B/W: 1-bit

Dynamic Range

3.6

Infrared

Built-in

Scanning Speed

3600 dpi: Approx. 36 sec (Multi-Sampling ON)

7200 dpi: Approx. 113 sec (Multi-Sampling ON)

Scanning Area (W x L)

36.8 mm x 25.4 mm (1.45" x 1")

Preview Speed

Negative Film: Approx. 8 sec (Multi-Sampling ON)

Positive Film: Approx. 8 sec (Multi-Sampling ON)

Action Button

IntelliScan, QuickScan

Power Supply

15 Vdc / 1.0 A

Interface

USB 2.0

Net Weight

1.6 Kgs (3.5 Lbs)

Dimensions (W x D x H)

120 x 272 x 119 mm (4.73" x 10.7" x 4.7")

OS

Windows XP/ Vista/ 7/ 8/ 10

Mac OS X 10.5.x/ 10.6.x/ 10.7.x/ 10.8.x/ 10.9.x/ 10.10.x/ 10.11.x

Hardware Requirements

Windows PC

2 GHz Processor or faster

2 GB RAM main memory (4 GB RAM recommended)

10 GB free space on hard disk drive

CD/ DVD drive or internet connection

 

Mac

2 GHz Processor or faster (INTEL based processor, NO Power PC )

2 GB RAM main memory (4 GB RAM recommended)

10 GB free space on hard disk drive

DVD drive or internet connection
Description
BioScan-500 /Pathascan Enabler IV Digital Pathology/Histology Slide Scanner
BioScan-510 is a 7200 dpi optical resolution scanner with state of the art illumination and optical systems designed to resolve very small differences in edge contrast. A built-in infrared channel can detect dust and scratches on the surface of the original negatives and slides. It is highly useful for defect removal without retouching the images.
The BioScan-510 and LaserSoft Imaging's SilverFast software make for a good combination. Users can benefit from SilverFast's intelligent automatic functions which help to make the process of various adjustments much easier and get brilliant results. For example, SilverFast Multi-Exposure® reveals more shadow details and creates less image noise. SilverFast iSRD® uses the built-in infrared channel to remove dust and scratches without losing details, and SilverFast SCC® provides selective color changing with just one click.
The BioScan-510 scanner is bundled with the newest version of LaserSoft Imaging's acclaimed scanner software - SilverFast 8. The WorkflowPilot® guides users through all scanning processes step by step. The new graphical user interface allows users to enjoy quality results with an easy learning curve, and the preview mode immediately shows the results of any adjustments. SilverFast 8 is multitasking capable, and supports the latest 64-bit hardware.
The BioScan-510 offers the best film scanning solution for web sharing and printing. It targets all home, eductaional, industrial and orofessional users, biologists, pathologists, histologists, lomographers, film photo enthusiasts from all professions, amateur photographers, professional photographers, and those who highly demand image quality.
The BioScan-510 helps create the market for personal digital slide scanning. With an innovative yet simple design, the Bioscan 510 allows scanning of whole mounted histological samples attached to standard 1 X 3 inch cover slipper glass slides. The Bioscan 510 solves low power, large field of view, and high resolution imaging problems.
Stunning, incredible images!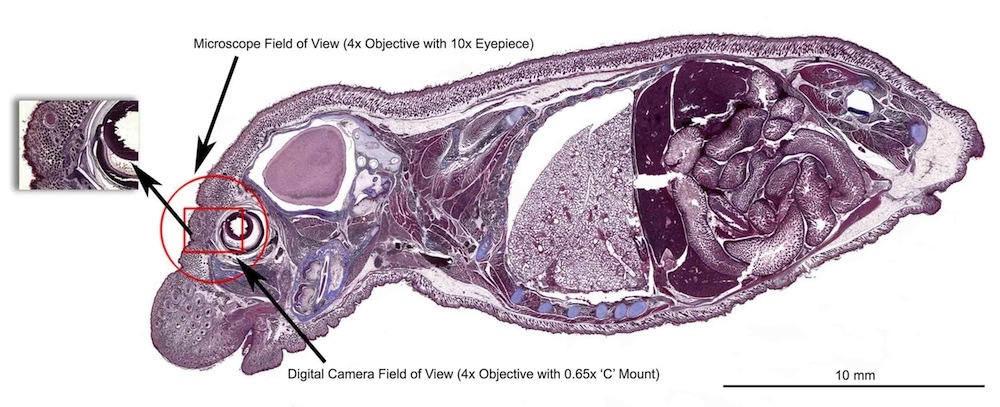 Configuration
Softwares
You can use two softwares with this scanner:
QuickScan
QuickScan is a button utility (PC) for scanning glass 1x3" slides, 35mm negative films and positive slides. It is easy to operate and speedy to scan.
Supports JPG, TIF, PCX and BMP file output format.
Easy to adjust the scanning attributes.
SilverFast SE Plus 8
LaserSoft Imaging AG SilverFast is a world class professional scan software. It provides users and professionals with a powerful tool for scanning, editing, and color reproduction. SilverFast SE Plus 8 scanner software is the further development of entry-level version SilverFast SE 8. Its intelligent image automatic simplifies scanning and image optimization immensely.

WorkflowPilot - a step-by-step assistant for every workflow
Preview Concept - immediate control of any image adjustment
Multi-Tasking - concurrent scanning and optimizing
Multi-Exposure - increases dynamic range for maximum details
Negafix – a convenient and professional way to convert negatives into brilliant positives.
iSRD – an effective solution to save hours of post scan editing and retourching to remove the results of dust and scratches on the original film or slide. (The hardware needs supporting this feature)


Images
Links